Movie Theatre Located in Slave Lake.
Announcement:
Due to limited movie releases at this time, The Rex Theatre will be closing on Jan 28, 2022, and reopening on Feb 11, 2022.
Announcement:
Given the Covid 19 restrictions imposed by the Alberta Government Rex Theatre will be implementing capacity restrictions beginning Monday Sept 20/21. As per Government regulations we will restrict the capacity of the auditorium to 1/3 of fire code. You will NOT be asked for proof of vaccination.
Masks and 2 metre physical distancing is required. Attendees must be seated with household members only, or two close contacts if they live alone. You may remove your mask once seated in the auditorium.
Starring Neve Campbell, Courtney Cox, and David Arquette.
Duration: 1 hour and 54 minutes 
Rated:  14 A
Fri, Jan 21 at 8:00 pm 
Sat, Jan 22 at 8:00 pm 

Sun, Jan 23 at 8:00 pm
Mon, Jan 24 at 8:00 pm
Tue, Jan 25 at 7:30 pm
Wed, Jan 26 at 7:30 pm 
Thu, Jan 27 at 7:30 pm
Starring Keanu Reeves, Carrie-Anne Moss, and Jessica Henwick.
Duration: 2 hours and 18 minutes
Rated:  Not yet rated
Fri, Jan 14 at 8:00 pm 3D
Sat, Jan 15 at 8:00 pm 3D
Sun, Jan 16 at 8:00 pm
Mon, Jan 17 at 8:00 pm
Starring Tom Holland, Zendaya, and Benedict Cumberbatch.
Duration: 2 hours and 37 minutes
Rated: PG
Fri, Jan 7 at 8:00 pm 3D
Sat, Jan 8 at 8:00 pm 3D
Sun, Jan 9  at 8:00 pm


Mon, Jan 10 at 8:00 pm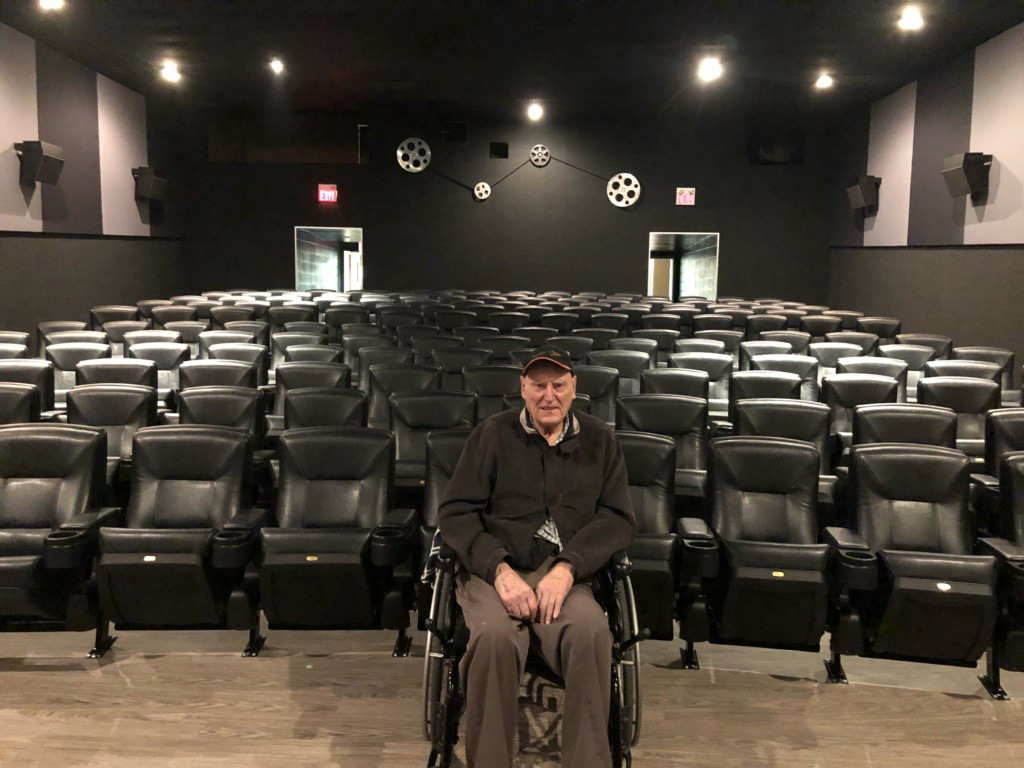 Roy Evans acquired the Theatre business early in 1949 from Len Stiles who was then showing movies in communities around the lakeshore including Slave Lake, Widewater, Canyon Creek and Kinuso. At the time Len was moving to Chisholm and Roy acquired the rights to show movies in Slave Lake.   Thus began what is now the oldest family owned small business in Slave Lake.  
The movies were shown in the Legion Hall on Main Street for approx 5 years until the theatre was established in its current location.  The original building was about half the size it is now and has undergone several additions and renovations since then.   Back then movies were shown with 16 mm projectors and film reels were delivered in metal canisters by train. To date 5 generations of family have worked in the business alongside Roy and his wife Betty. Roy operated the business until he was forced to retire at age 89 due to ill health.   His children are now carrying on his legacy.